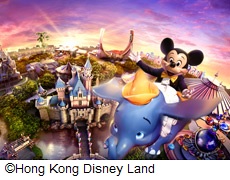 Theme Land attraction that can be found at Hongkong Disney Land only!
Hongkong Disneyland have the Main Street USA, Adventure Land, Fantasy Land, Tomorrow Land,and also,the first in Asia,The Toy Story Land, the Theme Land limited to Hongkong Disneyland only that is categorize into Grizzly Gulch and 7 Mystic Land Themes.


Hongkong Disneyland's Original. No.1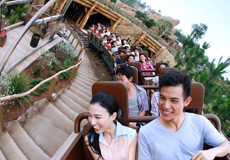 Grizzly Gulch,the completely new Theme Land that only Hongkong Disney Land have out of all the Disney Parks around the world. The town of the wild west era that's booming with gold rush mines, Grizzly Gulch. Experience the thrill with roller coaster freely runs along inside the mine's railways, the" Big Grizzly Mountain Ran Away Mine Car". The Geiser Gulch placed on top of the geyser where the water pops out sometimes playfully is an area where you can have fun. Let's become a pioneer and experience the thrills and spills of this adventure now!


Hongkong Disneyland's Original. No.2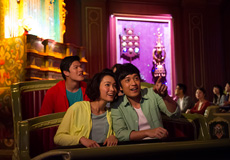 Explorer Theme Land which focuses on "Mystic Manor" museum decorated with Sir Henry Mystic's collection of valuable memorabilia from around the world, the Mystic Point, that is nowhere else to be found in the world but in Hongkong Disneyland only. Join the tour around in a Magnetic car and get in to an adventure full of surprises, More to that, the entire theme is a Museum of Sir Henry Mystic collection of memorabilia and others from all over the world gathered together wherein you can take photos. Let's get in to be surprised and discover non-stop adventures now!
---
◆Entrance Ticket
Adult/1 Day Pass :HKD589
Child/1Day Pass:HKD419
※We Have Special Discount for Macau Resident!For details, please Contact Us
---
Directions on How to Go to Hongkong from Macao
Going to Hongkong(Sheung Wan) by Ferrry from Macau
⇒Going to Central via MTR from Sheung Wan
⇒Move around the Subway following the "Tung Chung Line" indication
⇒Transferring to "Tung Chung Line" from Hong Kong station
⇒At Sunny Bay Station, change train to Disney Line
⇒Arrive at Disney Station!