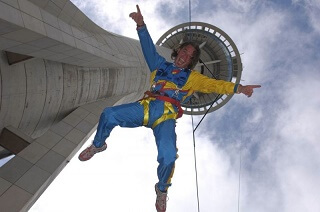 Asia's first, moreover the only sky Jump with a harness!
Don't you also want to try the thrill of jumping for just 17seconds from a 233m height?
2 people jump at the same time (tandem Sky Jump) is also possible. 
HK$2,988.-
Include:
Skyjump
Skyjump Certificate
AJ Hackett Skyjump exclusive Jumpers Only T-shirt (if you complete Skyjump)
AJ Hackett International membership card
Tower entrance ticket
Photos, HD Video & GoPro footage in USB
Qualifications:
Weight 40kgs and above, who can able to be put harness on.
Written parental authorization for clients under 18 years old.
Minimum age should be 10 years of age but it's more a case if the client fits the harness than actually an age matter.
Medical Conditions:
You need to inform AJ Hackett staff of:
High Blood Pressure
Heart Conditions
Diabetes
Pregnancy
Epilepsy
Dislocations
Neurological Disorders
Vertigo
Please note - this list is NOT exhaustive.
Please inform us of any other medical conditions you may have and if you are unsure please ask your medical practitioner.
Cancellation Policy:
After Booking, Registration and Payment: No Refund.